FRECCLES - Friends of Eccles Station
---
* Click here for real-time train running information for Eccles *
---
Passenger numbers at Eccles increase once more !
Official station usage estimates for 2013-14 published by the Office of Rail Regulation show that the number of passengers using Eccles Station has increased by 8% since the previous year. Almost 160,000 passengers boarded or alighted at Eccles in the year from April 2013 to March 2014.
This large increase emphasises the justification of FRECCLES' demand for extra rail services for Eccles. Ecccles needs a frequent and reliable train service, not the current one train per hour service.
---
Forecourt Re-development at Eccles Station
The long-awaited re-development of the forecourt at Eccles Station is now (November 2014) substantially complete. The re-development includes:
an expanded public realm that includes an outdoor dining area for the adjacent restaurant
planters and seating
safe pedestrian routes through the forecourt
car parking is restricted to passenger drop-off (with one disabled bay)
a cycle store which will be opened in the next few months
This re-develpment is something FRECCLES has been campaigning for for many years, and has been funded by Salford City Council and Eccles Community Committee.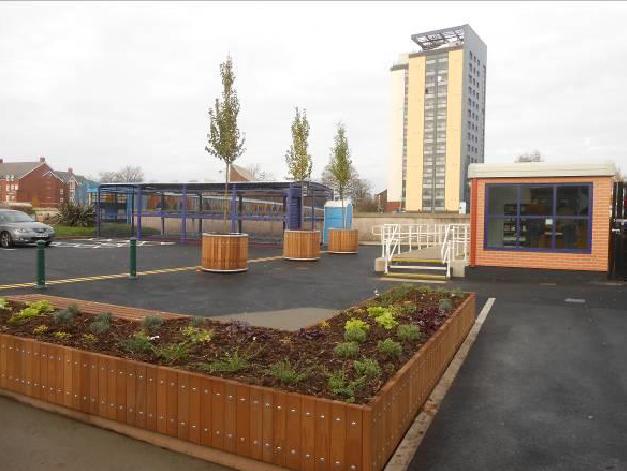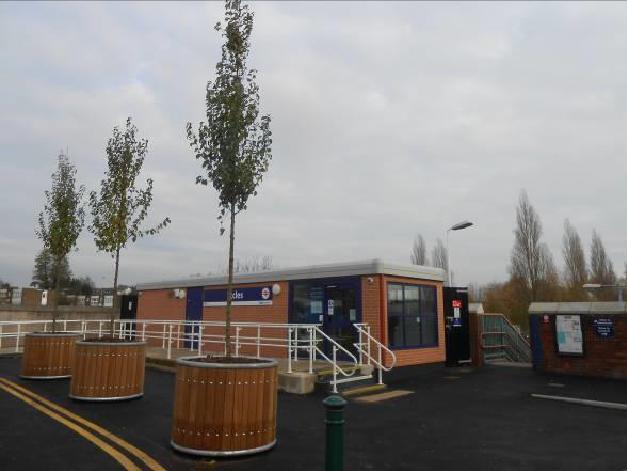 ---
Electric Trains announced for Manchester - Liverpool line
On 2nd April the government announced that 4-car electric trains would be provided to Northern Rail in 2014 and 2015 to run services on the newly-electrified North West lines. You can read more about it in Northern Rail's press release - and you may recognise the station in their accompanying picture ! The latest information from the Department of Transport is that the electric trains will operate the services calling at Eccles from May 2015.
---
Eccles station debated in Parliament - 26 March 2014
In an adjournment debate in the Houses of Parliament, Hazel Blears MP for Eccles and Salford put a hard-hitting case for an improvement in train services at Eccles. Watch and listen to the debate here (start at 16:38:25, about 2 hours 8 mins into the video). The full transcript of the debate from Hansard is also available.
---
FRECCLES Wish List
FRECCLES and FrOPS presented a prioritised list of aspirations to Transport for Greater Manchester in February. Top of the list is our demand for a 30 minute service for Eccles and Patricroft throughout the day from December 2014.
---
---
FRECCLES was established on 15th September 2005, the 175th anniversary of the opening of the world's first main line passenger railway between Manchester and Liverpool through Eccles on 15th September 1830. Working in partnership with ACoRP, TfGM, Salford City Council, Northern Rail and Network Rail, we aim to improve the environment and passenger services at Eccles Station and the immediate surrounding area and to put the station back into the heart of the community.
Now in its ninth year, FRECCLES can claim to be well on the way to achieving many of these objectives. Certainly we have the strong support of all the above organisations, which recognise the work we have carried out to transform the appearance of the station. This recognition has been accompanied by significant funding which has heped us, for example, in our gardening work. However, we still lack a frequent train service - surely the most important facility one would hope to find at a railway station - and one which our many supporters in the local community expect us to correct at a stroke !
Freccles has a membership of around 40 and at least half of these are very active, being members of at least one of our subgroups - Service Development, Gardening, Heritage, Publicity and Funding. Some of these groups have separate sections on this website where you can find out more about their work. If you would like to join us, or to find out more about FRECCLES, you can contact us by email at info@freccles.org.uk or visit the Freccles page on Facebook.
---