FRECCLES - Friends of Eccles Station
---
11 September 2013 - The new Eccles station building is now open !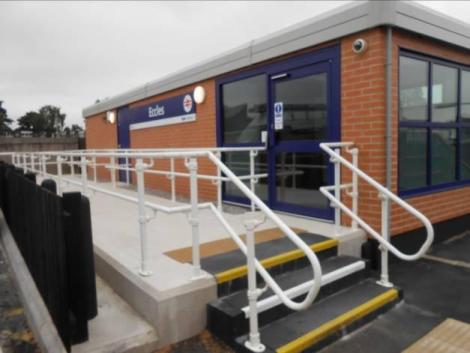 The new Eccles Station Building
The new ticket office is now open for business (Monday - Saturday 06:35 - 13:10), and the car park has re-opened.
The new booking office has a waiting area, level access and better staff facilities. The station forecourt remodelling, including installation of a cycle locker, is expected to be progressed later this year. Further details ...
---
* Click here for real-time train running information for Eccles *
---
Minister unveils plaque at Eccles station
On 17th July the Secretary of State for Transport, Rt Hon Patrick McLoughlin MP, visited Eccles station and unveiled a plaque to commmemorate the completion of the first phase of work to electrify the railway line between Liverpool and Manchester. FRECCLES members took the opportunity to push the case for more trains to stop at Eccles, and received a favourable response. Read a full report by our Chair, David Yates. There are more photos on the FRECCLES photo archive and report and video at SalfordOnline.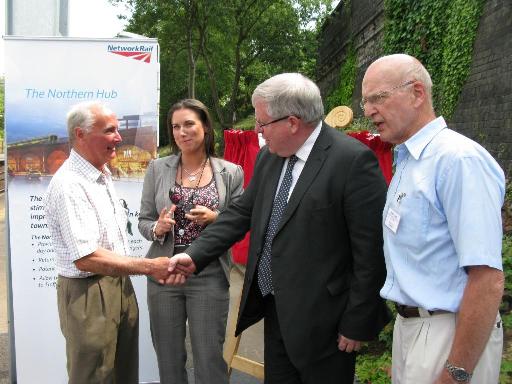 Eoan Edwards (Treasurer, FRECCLES), Councillor Lisa Stone, the Secretary of State, and David Yates (Chair, FRECCLES)
---
April 2013 : Eccles railway station - passenger numbers rise by 23%. Read the full story
---
Read the 2013 FRECCLES AGM Report here
---
---
FRECCLES was established on 15th September 2005, the 175th anniversary of the opening of the world's first main line passenger railway between Manchester and Liverpool through Eccles on 15th September 1830. Working in partnership with ACoRP, TfGM, Salford City Council, Northern Rail and Network Rail, we aim to improve the environment and passenger services at Eccles Station and the immediate surrounding area and to put the station back into the heart of the community.
Now in its eighth year, FRECCLES can claim to be well on the way to achieving many of these objectives. Certainly we have the strong support of all the above organisations, which recognise the work we have carried out to transform the appearance of the station. This recognition has been accompanied by significant funding which has heped us, for example, in our gardening work. However, we still lack a frequent train service - surely the most important facility one would hope to find at a railway station - and one which our many supporters in the local community expect us to correct at a stroke !
Freccles has a membership of around 40 and at least half of these are very active, being members of at least one of our subgroups - Service Development, Gardening, Heritage, Publicity and Funding. Some of these groups have separate sections on this website where you can find out more about their work. If you would like to join us, or to find out more about FRECCLES, you can contact us by email at info@freccles.org.uk or visit the Freccles page on Facebook.
---