FRECCLES - Friends of Eccles Station
---
* Click here for real-time train running information for Eccles *
---
At last: real-time train departure indicators at Eccles station
September 2015: Work to install customer information screens, displaying real-time information on train arrivals and departures, has been completed at Eccles station. There are now working screens on each platform, plus one in the booking office. CCTV, Help Points and announcement loudspeakers have also been installed.
So Eccles station is gradually being brought into the twentyfirst century !
---
Cycle Hub now open
June 2015: The Cycle Hub at Eccles Station is now open for business ! If you use the train from Eccles to commute to work, or for any other reason, why not cycle to the station and leave your bike in the secure cycle hub ? For only £10 per year you can use the cycle hub at Eccles (and also those at Altrincham, Ashton-uner-Lyne, Bolton, Bury, Hazel Grove, Leigh, Manchester Oxford Road, Rochdale and Salford Central stations).
For further information and to apply for Cycle Hub membership, go to the TfGM Cycle Hubs web page.
---
Electric Trains are here !
FRECCLES is pleased to confirm that electric trains have replaced most of the diesel trains serving Eccles as from Sunday May 17th. The electric trains are refurbished four-carriage units, and are operating on both the Sunday Liverpool to Manchester Airport route, and the Monday to Saturday Liverpool to Manchester Victoria route. The few remaining diesel trains will all be replaced by electric trains over the next few months.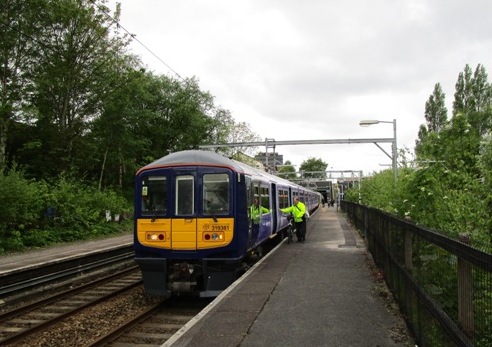 Here it is - the first scheduled electric train to stop at Eccles, 09.02 on Sunday 17th May 2015
There will be no change to the running times yet - we may get speeded-up timetables in December 2015. The only significant timetable change for Eccles from May 17th is that the late evening Monday to Thursday services will at last be operated by trains rather than rail replacement buses. So for first time for many years we will have an all train service !
---
A few more trains for Eccles ... by December 2017 !
The Northern franchise ITT (Invitation to Tender), published by Department of Transport on 27th February, specifies only a few more trains calling at Eccles per day, from December 2017. FRECCLES is extremely disappointed that the opportunity was not taken to increase our train service to 2 trains per hour in each direction.
Tne ITT is a a minimum service specification, so FRECCLES will be lobbying the three franchise bidders to enhance their bids to include 2 trains per hour throughout the day. We are supported in doing this by Salford City Council and Transport for Greater Manchester, both of which also called for 2 trains per hour at Eccles.
According to the ITT December 2017 will see a change in the train services calling at Eccles: there will be an hourly stopping service between Liverpool Lime Street and Manchester Oxford Road/Piccadilly/Manchester Airport, and peak-period calls by an hourly service between Chester, Manchester Victoria and Leeds.
---
Passenger numbers at Eccles increase once more !
Official station usage estimates for 2013-14 published by the Office of Rail Regulation show that the number of passengers using Eccles Station has increased by 8% since the previous year. Almost 160,000 passengers boarded or alighted at Eccles in the year from April 2013 to March 2014.
This large increase emphasises the justification of FRECCLES' demand for extra rail services for Eccles. Ecccles needs a frequent and reliable train service, not the current one train per hour service.
---
---
FRECCLES was established on 15th September 2005, the 175th anniversary of the opening of the world's first main line passenger railway between Manchester and Liverpool through Eccles on 15th September 1830. Working in partnership with ACoRP, TfGM, Salford City Council, Northern Rail and Network Rail, we aim to improve the environment and passenger services at Eccles Station and the immediate surrounding area and to put the station back into the heart of the community.
Now in its eleventh year, FRECCLES can claim to be well on the way to achieving many of these objectives. Certainly we have the strong support of all the above organisations, which recognise the work we have carried out to transform the appearance of the station. This recognition has been accompanied by significant funding which has heped us, for example, in our gardening work. However, we still lack a frequent train service - surely the most important facility one would hope to find at a railway station - and one which our many supporters in the local community expect us to correct at a stroke !
Freccles has a membership of around 40 and at least half of these are very active, being members of at least one of our subgroups - Service Development, Gardening, Heritage, Publicity and Funding. Some of these groups have separate sections on this website where you can find out more about their work. If you would like to join us, or to find out more about FRECCLES, you can contact us by email at info@freccles.org.uk or visit the Freccles page on Facebook.
---