FRECCLES - Friends of Eccles Station
---
* Click here for real-time train running information for Eccles *
---
Annual Presentation Meeting
Everyone interested in rail travel to/from Eccles Station is invited to the FRECCLES Annual Presentation Meeting to be held at Eccles Community Hall (ECHO), Eccles Town Hall, Church Street, Eccles, M30 0LH at 7 p.m. on Tuesday 18th April 2017. Meet the Managers: find out about Northern Railway's services and developments. Presentations from FRECCLES: Our plans for the future; In the community; At the station; Heritage and History.
---
Timetable improvements postponed
January 2017 - Northern have confirmed that timetable improvements and new services due to be introduced in December 2017 will NOT now happen until May 2018. FRECCLES is disappointed by this postponement, which is due to a delay in Northern obtaining additional rolling stock which was promised by the government. FRECCLES is still campaigning for a minimum of 1 train each way every 30 minutes at Eccles when the new timetable is introduced.
---
FRECCLES hits Gold !
5 Sept 2016 - FRECCLES has been placed in the Gold Band category by the Association of Community Rail Partnerships (ACoRP) in their It's Your Station awards, following a recent inspection of the Eccles Station gardens by ACoRP judges. Congratulations to everyone who has helped in achieving this.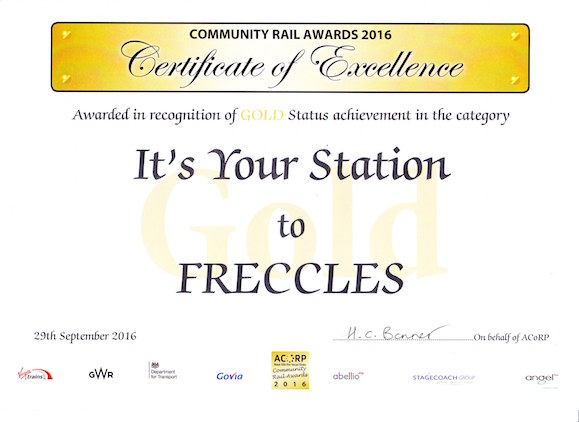 ---
* Want to report a fault with your train, or with the station ? - Do it here! *
---
FRECCLES was established on 15th September 2005, the 175th anniversary of the opening of the world's first main line passenger railway between Manchester and Liverpool through Eccles on 15th September 1830. Working in partnership with ACoRP, TfGM, Salford City Council, Northern Rail and Network Rail, we aim to improve the environment and passenger services at Eccles Station and the immediate surrounding area and to put the station back into the heart of the community.
Now in its eleventh year, FRECCLES can claim to be well on the way to achieving many of these objectives. Certainly we have the strong support of all the above organisations, which recognise the work we have carried out to transform the appearance of the station. This recognition has been accompanied by significant funding which has heped us, for example, in our gardening work. However, we still lack a frequent train service - surely the most important facility one would hope to find at a railway station - and one which our many supporters in the local community expect us to correct at a stroke !
Freccles has a membership of around 40 and at least half of these are very active, being members of at least one of our subgroups - Service Development, Gardening, Heritage, Publicity and Funding. Some of these groups have separate sections on this website where you can find out more about their work. If you would like to join us, or to find out more about FRECCLES, you can contact us by email at info@freccles.org.uk or visit the Freccles page on Facebook.
---